Mollificio F.lli Fioretti S.r.l. (Fioretti Brothers Springs Manufacturer) has to its advantage over 50 years experience in the design and construction of springs and various mechanical parts, paying special attention to the research of new technologies and state-of-the-art equipment.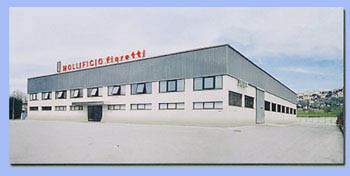 The high quality level of the product is guaranteed by:


use of the latest generation in machinery and tooling
use of digital equipment of maximum precision for control of materials, of the processing and for final tests
the continual evolution of a Quality System certified ISO 9001:2008 and ISO 14001-2004
The Company supplies products and services in many sectors of the mechanical, electronic, military, naval and automotive industries. It is furthermore a Trenitalia supplier (Italian Railways).

Mollificio F.lli Fioretti S.r.l. has in its possession, as far as the working of metallic wire and strip is concerned, a high level know-how that together with the valid support and specialization of its own technicians and operators, has allowed it to accomplish an excellent organizational structure with aim of guaranteeing:

the correct management of Customer Interfaces
the collection and analysis of information with the aim of better individualizing Client demands
the provision of monitored service finalised to continuos improvement and not only to the simple supply of a product
Different materials are used in manufacturing such as carbon steel, alloy steel, stainless steel, phosphorous bronze, brass, copper, bimetallic materials as per EN DIN and UNI specifications, in the following dimensions:


Wires Ø from 0,05 mm to 20 mm

Strips thickness from 0,03 to 3 mm

Our specialised personnel are always at your disposal for informations, calculations and technical consultancies.